About Valcambi
Valcambi is a world-renowned refinery producing gold and silver for centuries. The company has an extensive history dating back to the 13th century, and it is one of the most respected refineries in the world. Valcambi is known for its high-quality products and its commitment to customer satisfaction. The company has a long-standing reputation for excellence and is one of the most trusted names in the gold and silver industry.
Valcambi Gold Bars Design & Sizes
Valcambi gold bars are available in a variety of weights and sizes. The bars are pure gold and display excellent craftsmanship. The reverse side of the bar contains the Valcambi logo, purity marks, and the unique serial number. The engraved serial number on the accompanying assay card should be the same as on the bar.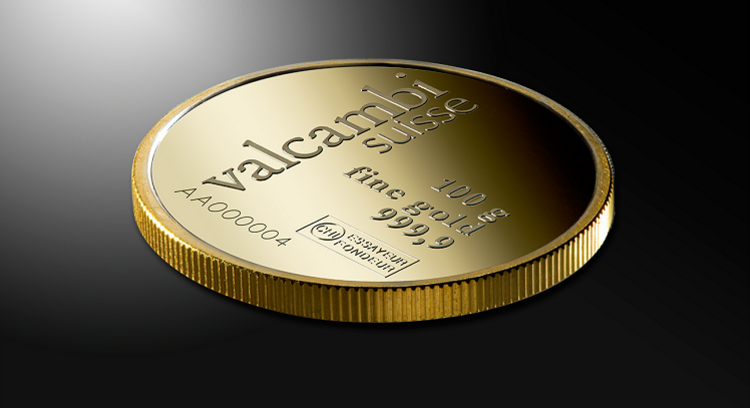 5-gram Gold Bar Valcambi Suisse .9999 Fine (In Assay)
A 5-gram Gold Bar Valcambi Suisse .9999 Fine (In Assay) is a gold bar that the Valcambi Suisse Mint has minted. The obverse of the gold bar features the Valcambi Suisse logo of four obtuse triangles forming a square, while the bar's reverse bears the words "Valcambi Suisse" and a serial number. The bar is made from 99.99% fine gold bullion and includes an assay card to certify the item's authenticity.
50-gram Gold Bar Valcambi Suisse .9999 Fine (In Assay)
The Valcambi Suisse 50-gram Gold Bar is a popular choice for investors looking to add smaller amounts of gold to their portfolios. The bar contains 99.99% pure gold bullion and comes with an assay card to certify its authenticity. The bar is universally recognized and can be purchased from many online retailers.
20 x 1 gram Gold Valcambi CombiBar .9999 Fine (In Assay)
The Valcambi CombiBar is a unique product that the Valcambi Suisse refinery produces. The CombiBar is a gold bar divided into 20 smaller bars that can be easily broken off and used in situations where gold bullion coins or bars might not. For example, if you go to a store and try to purchase something with a gold coin, the store might not take it because they would have to weigh it and determine its value. However, if you had a Valcambi CombiBar, you could break off one of the small bars and use it as payment.
The Valcambi Suisse refinery has a long history of producing high-quality gold and silver products. In addition to the CombiBar, they make various other gold and silver products, including coins, bars, and rounds. If you are looking for a reputable source for buying gold or silver, then Valcambi Suisse is worth considering.
The Production
Valcambi Suisse is a refinery with a rich history of producing gold and silver. The company has been in business for over 50 years and has a reputation for producing high-quality precious metals products. The Valcambi Suisse refinery begins with melting gold and silver in an induction furnace. The molten metal is then poured into molds to create bars or ingots. Once the bars are cooled, they are stamped with the alloy and Assay. The finished product is then shipped to customers around the world.
Price & Ownership
Valcambi Suisse is a world-renowned refinery that produces some of the finest gold and silver bars.
Valcambi Suisse bars are made from 999.9 fine gold, and each bar is stamped with a unique serial number and the company's logo. The bars come in various sizes, but the most popular size is the 1 oz bar.
You can find them for sale from many online dealers if you want to purchase a Valcambi Suisse gold bar. These bars typically range from $1,500 to $2,000 per ounce, depending on your purchase size and quantity.
Valcambi Suisse products are highly sought after by investors due to their high level of security and easy storage. The refinery's name is engraved on the reverse of each bar, along with the weight, purity, and metal content. The serial number is also included on the bar, allowing for easy ownership tracking. Each bar's assay card provides additional weight, purity, and metal content information.